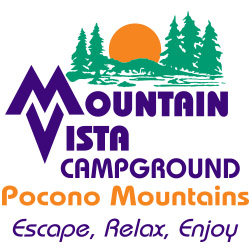 We're proud of our campground and the camping atmosphere of the Poconos, but don't take our word for it– read what some of our campers have to say about staying at Mountain Vista Campground!
"We've been camping here since 2002… every year. They have beautiful cabins here– you can have private showers, baths, you can do your cooking, and they're nice and quiet. Many of them are brand new. Mountain Vista is really just a great place to come and relax."

—John A.

"The kids just love it here. I mean, they love it. During the winter season they ask over and over 'How many days until we can go to Mountain Vista again??' It's a great place. The campsites are always clean and comfortable… it's all so nice and convenient. We tell our friends to come all the time– it's great! The owners and the other campers are so friendly and always make you feel welcome."

—Renee, Faith, and Shannon

"We camped at Mountain Vista with our own children, and now we're doing it with the next generation too. Because of our likes of camping, it's rubbed off on them, and so they get all excited to come camping here. We love to go swimming together, hiking around and looking at the scenery, chatting with folks, and making new friends along the way. It's always so fun and uplifting."

—Sandy A.

"I camped here with my parents for fifteen years, and I recently got my own trailer and a seasonal site up here and it's just great. It's easy to get to, it's quiet, it's a family-run place, and everybody is super great to us. It's a great way to build memories… I hope it stays with the kids and that they keep the tradition going, camping with their own families. It's the only way I know how to relax!"

—Kim A.

"Beautiful campground, great for kids and adults, huge dog run, and the owners are very, very nice people. We always have a chat session with them! Wood carvings galore– you will not be disappointed!"

—Terry W.

"If you are looking for a fun family campground in the Pocono Mountain region, this is the place for you. We stayed the weekend in our travel trailer and booked our next weekend trip before we left. The sites are level and spacious and the owners care enough to place you at a site that fits all your needs. The campground is meticulously maintained, the staff is super friendly, and there are family/kid activities each weekend. This campground is family-owned and you definitely feel like family when you stay there. This is truly a place that cares about your experience!"

—Christy D.

"Paradise in the Poconos… the campground is immaculate and we love the staff so much. They make us feel like family! We came here for our first anniversary and we booked for next year and intend on returning every year. Thank you so much for making our first anniversary so special!"

—Robert H.

"Fantastic!!! This is without a doubt the best campground we have ever stayed at. With over 15 years of campground experiences, no campground comes close to providing what these fantastic, friendly, helpful people did. We arrived late due to a flat tire and a two-hour wait for roadside assistance, and we were kind of shaken up over the whole ordeal and the drive from Virginia. But we were welcomed like old friends, comforted, and shown to our site and assured that their "tire man" would get us a new tire and have it delivered to our site! During our week stay at Mountain Vista we discovered how beautiful the campground and surrounding area was– spacious sites with plenty of shade and gravel roads throughout. A lot of attention to detail and maintenance is evident as we walked around the campground. Simply put, this campground is the best we have ever visited and is run by the best people you would ever want to meet."

—Wayne R.

"We stayed in one of the cabins for the weekend and had a wonderful time. The cabin was perfect, the hospitality of the campground staff was wonderful, and hiking in Bushkill Falls was simply amazing. We'll be returning!"

—Michelle R.

"Mountain Vista has it all as far as I'm concerned. Fantastic staff, well-kept sites, tons of kids' activities, and a great pet area for your furry kids. It is so close to where our camper is stored that it's a very close trip for us. My wife and I will continue to return every season. It's our favorite getaway!"

—Ryan G.