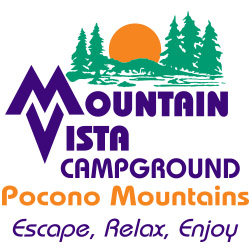 All the answers to your need-to-know Mountain Vista questions can be found right here. If you still need some things clarified, feel free to give our office a call and we'll be happy to help!
FAQs About Mountain Vista Campground
What is the campground season?
The campground is open from early May through late October.
What time is check-in and check-out?
Check-in time is after 3:00 PM. Check-out time is 11:00 AM for rental vacation units and 1:00 PM for campsites. Early check-in and late check-out may be available for $7.50 per hour on our campsites (depending upon availability). Sorry, we cannot accommodate early check-in or late check-out for our rental vacation units.
Does Mountain Vista offer any camping specials?
Yes, you can find several spring and fall savings during your visit with us by checking out our Camping Specials page!
What about Pets?
Mountain Vista Campground is pet-friendly throughout the park except for our rental vacation units. In order to ensure the enjoyment of our guests, the following guidelines have been established with the most sincere intentions to provide for the safety and well-being of all our guests and their pets:
–Pets are prohibited from all rental vacation units and at rental vacation sites except for Camping Cabins. In camping Cabins only: Pet Fees: $75/pet or 2 pets for $100 (+tax) with a maximum of two pets for pets reserved at time of reservation. For Pet's added at check in: Pet Fees: $100/pet or 2 pets for $125 (+tax) with a maximum of two pets.
–All pet eliminations/dog droppings must be bagged and disposed of immediately and are the sole responsibility of the pet owner. (Dogipot bags are provided throughout the park at various locations for your convenience.)
–Pets should not be left unattended, particularly if their barking will disturb other campers.
–When outside your unit, pets are to be on a short leash at all times, unless tied on a strong durable chain or rope that will not allow your pet to extend off the site/lawn in any direction.
–All owners should carry with them proper papers indicating vaccinations to be presented to our staff upon request.
–Pets are not permitted in the pool area or in any of our rental vacation units. Guests staying in or at any of our rental vacation units are not permitted to bring pets to the campground or have day visitors bring pets to the campground.
–Your four-legged friends have their own place to play at M & M Dog Run, where dogs are free to chase their tails in our fenced-in dog run. Click here to view our Dog Run Rules.
Are campfires allowed and can I bring my own firewood?
Campfires are always welcome at Mountain Vista!  All campsites and rental sites have a fire ring, and firewood may be purchased at the Trading Post. The Pennsylvania Department of Agriculture has issued a notice prohibiting movement of all species of firewood into the State from outside of Pennsylvania (due to the Asian Longhorned Beetle), so no out-of-state firewood, please!
Is there high-speed internet available?
You can surf the internet from anywhere in the campground – including inside your trailer or tent. High-Speed Wireless Internet is available throughout the campground.
FAQs About Booking
How many camping units are allowed per site?
We permit one family and one camping unit per site. An additional tent for the registered camper's immediate family only will be limited to one per site. Immediate family is defined as unmarried children under 18 living with parents. An additional tent may be used only with prior approval from the office. In fairness to all of our guests, we limit the number of people on each site to a maximum of 4 adults and 6 persons total.
Do you offer group rates?
Camping clubs and groups are welcome at Mountain Vista, and we have special rates and events tailored specifically for your large group visit. One of our two campground pavilions are available at certain times for club activities (please check when making your reservation). Click here for more information about club discounts.
Can I request a specific site?
Specific campsites may be requested and we will try our best to accommodate, but due to unforeseen circumstances, we cannot positively guarantee specific sites. It is our goal to provide you with a campsite that meets your expectations. Due to the volume of reservations received and changes in reservation status that sometimes occur after a reservation is made, this policy enables us to meet a higher rate of satisfaction with our guests than if specific RV sites were guaranteed in advance. We suggest that if this is your first visit to Mountain Vista that you request locations related to amenity preferences and allow our receptionists to provide you with a campsite for a comfortable and relaxing vacation. To view our campground map, click here.
What type of payments are accepted at the campground?
Cash, Checks, Travelers Checks, and Money Orders are accepted for deposit and at check-in. Click here to make your reservation, or click here to make a deposit online!
FAQs About the Poconos
Are there any restaurants nearby?
There are many restaurants within a short drive from the campground featuring a variety of foods. There are a few places that deliver and most have takeout available. The campground Trading Post has local menus for you to look at.
Are there grocery stores nearby?
There are several grocery stores within a few miles of the campground. Within 3 miles, there are two grocery stores that are open from 6:00 AM until midnight.
How about nearby golf courses?
There are 36 golf courses in the Pocono Mountains, including six courses within five miles of the campground.
What are some of the attractions in the Poconos?
The Poconos are chock-full of awesome family destinations and attractions, and you can learn more about a few them on our Attractions page. And make sure you check with the office before leaving on your day trip– Mountain Vista has discount tickets to many of them!