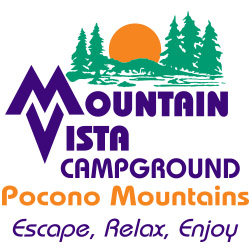 During your visit to Mountain Vista Campground, our map will help you navigate our park safely and easily. And for everyone's safety and enjoyment, please read and respect our policies for visiting campers. Thanks, and enjoy your stay!
This is our map
Things To Know
A deposit of $100.00 is required for two-night reservations, and $200.00 is required for week stays, holidays, special event weekend stays, and two-night rental vacation stays. A deposit of $400.00 is required for 4-week stays, holiday rental vacation stays, and week rental vacation stays.
Campsite weekend reservations must be for two or more nights, and holiday weekend and special event weekends must be for three or more nights (holiday weekends include: Memorial Day, Father's Day, July 4th, NASCAR Weekend, Labor Day & Columbus Day).
Click here for reservation minimums for rental vacation units.
Deposit Requirements (Campsites):
For 2 nights — $100 Advance Deposit
For 4+ nights — $200 Advance Deposit
For a 4-week reservation — $400 Advance Deposit
For All HOLIDAY RESERVATIONS — $200 Advance Deposit
Deposit Requirements (Rental Vacation Stays):
For 2 nights — $200 Advance Deposit
For 4+ nights — $400 Advance Deposit
For All HOLIDAY RESERVATIONS — $400 Advance Deposit
Your deposit is your promise that you will be here on the date you specify for the length of time that you specify, and your reservation is our promise to save a campsite for the date and time you specify. We offer refunds for cancellations up to 20 days from your scheduled arrival. There are no refunds on cancellations within 20 days. There is a $15.00 fee for all campsite cancellations and a $30.00 fee for all rental vacation unit cancellations.
All sites and rental units are based on two people and one camping unit; separate families sharing a site with their own camping unit (including tents) will be charged the regular nightly fee.
Sports equipment is available at the Trading Post . Available sports equipment includes: shuffleboard, horseshoes, basketball, tennis, ping pong, badminton, volleyball, softball, lasso golf, quoits, washers and bocce equipment.
You do not need a license to fish in the campground fishing pond. The pond is catch-and-release and is stocked with bass, pickerel, perch, blue gill, and sunfish.
Outdoor Swimming Pool hours are between the hours of 10:00 AM and 7:00 PM. All children under the age of 14 must be accompanied by an adult when using the pool.
Rules & Regulations
Quiet time is between the hours of 10:30 PM and 8:00 AM. During these hours, all children must be on campsite and in the company of their parents, guardians, or another responsible adult. After 11:00 PM all public areas of the campground are closed and cars may only be used to enter or leave the campground. Be considerate– all noise must be confined to your campsite. Excessive noise is not allowed at any time, and interfering with anyone else's use or enjoyment of the campground, day or night, is contrary to campground regulations.
All motor vehicles must be registered, insured and driven by a licensed driver. Motorcycles, minibikes, and mopeds are to be used only for entering or leaving the campground. Limit one vehicle per site. Visitors or second vehicle must park in designated areas. Bicycles must be on campsite before dark. Speed limit is 5 miles per hour in the campground. Pennsylvania state law requires helmets for all children under age 12. Skateboards or hoverboards are not allowed at the campground; however, skate parks are located within a short drive from the campground.
Messages will be posted on the bulletin board at the office.
No cutting, removal, destruction, or injury to any tree or shrub, alive or dead, standing or fallen.
No power tools or equipment (including chainsaws) are permitted to be used in the campground.
No firearms, B.B. guns, or fireworks are permitted in the campground.
The legal drinking age in Pennsylvania is 21; no one under the age of 21 is allowed to drink any type of alcoholic beverage with or without their parents' permission.
Visitor's Policy
Campers are responsible for the registration, behavior, and payment of their guests. A visitor is a person that does not register for the entire length of stay. All day visitors must check out by 9:30 PM. All guests must be registered at the office before entering the campground, get a registration pass, and pay the required fee. Day visits are considered more than 45 minutes and leaving the property prior to 9:30 PM. All visitors are charged per day. Please visit our Rates page for visitor pricing.